There is no better way to improve your skills as an Android developer than going to a big conference, where you can learn from experts. So, that's exactly what we did. This year, we attended Droidcon, the biggest Android conference in Europe. Once again, developers had the chance to listen to a range of keynote speakers and connect with other Android developers.
During our two days, there have been talks and workshops from over 60 expert speakers, from around the globe. They shared their knowledge and gave talks about the latest innovations from the Android world. The list of names included Chet Haase, Romain Guy, Christina Lee, Joe Birch and many others!
Pros 👍 and cons 👎
First, we'll cover the pros. Although there could have been more coffee & tea breaks, all the drinks were provided, and we spent our free time in the main lobby, socializing with colleagues from other IT companies.
Among other activities, this year's Droidcon celebrated the 50th anniversary of the moon landing. To commemorate it, there was a 360º cinema showing short movies about the landing. It was a great addition to an area filled with small booths from companies like Facebook and Google (and their yummy merch).
Although an overlapping of talks is not unusual at big conferences, we were sorry to hear that five lectures and workshops were being held at the same time. We had a hard time choosing between five good topics and great speakers. Luckily, the talks were recorded and some of them are now accessible online.
An issue that hit us the hardest was lunch. The meal consisted of a sandwich, some chips, a piece of fruit and a bottle of water which cannot be enough for an average person. We know Josip eats a lot, but this was a problem noticed by everyone. It's hard to keep up with lectures when you are constantly thinking about dinner. It's a bad memory we just can't forget…
👩‍🏫 Interesting Talks
Most of the talks were entertaining and informative, but there were a couple that stood out among all others.
The one that impressed both of us was Michael Scamell's Do the Loco-MotionLayout: Building animations with MotionLayout, a great talk about building animations with motion layout.

Michael demonstrated how to use it, step by step, with an awesome demo for each step so it was easy to keep up and very interesting to watch. He started with fundamentals so everyone could follow the talk and, by the end, showed us how powerful MotionLayout can be.

The one approved by Denis was First look at Jetpack Compose by Łukasz Wasylkowski.

He talked about Jetpack Compose, a modern toolkit for building native Android UI (currently in an early development phase, but available for the wide community). Wasylkowski mentioned the core principles of Jetpack Compose and added some code samples so that everyone could understand the lecture.

Adam McNeilly's Espresso Patronum: The Magic Of The Robot Pattern & Doug Stevenson's Easy, Scalable Backends for Android Developers are the ones Josip liked the most.

McNeilly's was a talk about Espresso testing. He taught us how to implement cleaner and more maintainable tests using Robot pattern.

Doug Stevenson was an experienced and interesting speaker who explained the options Google provides if we want to use "serverless" backends. His two main topics were Cloud Functions for Firebase and Cloud Run.
To sum up, we have to say that the conference wasn't perfect, but we had a good time and learned a lot. London is a nice place to visit! It's rainy most of the time, but you can hide in one of the pubs, have a few drinks and a lot of fun. For next year, we hope Droidcon London will grow and stay one of the best Android conferences in Europe, just with a better lunch. 🍴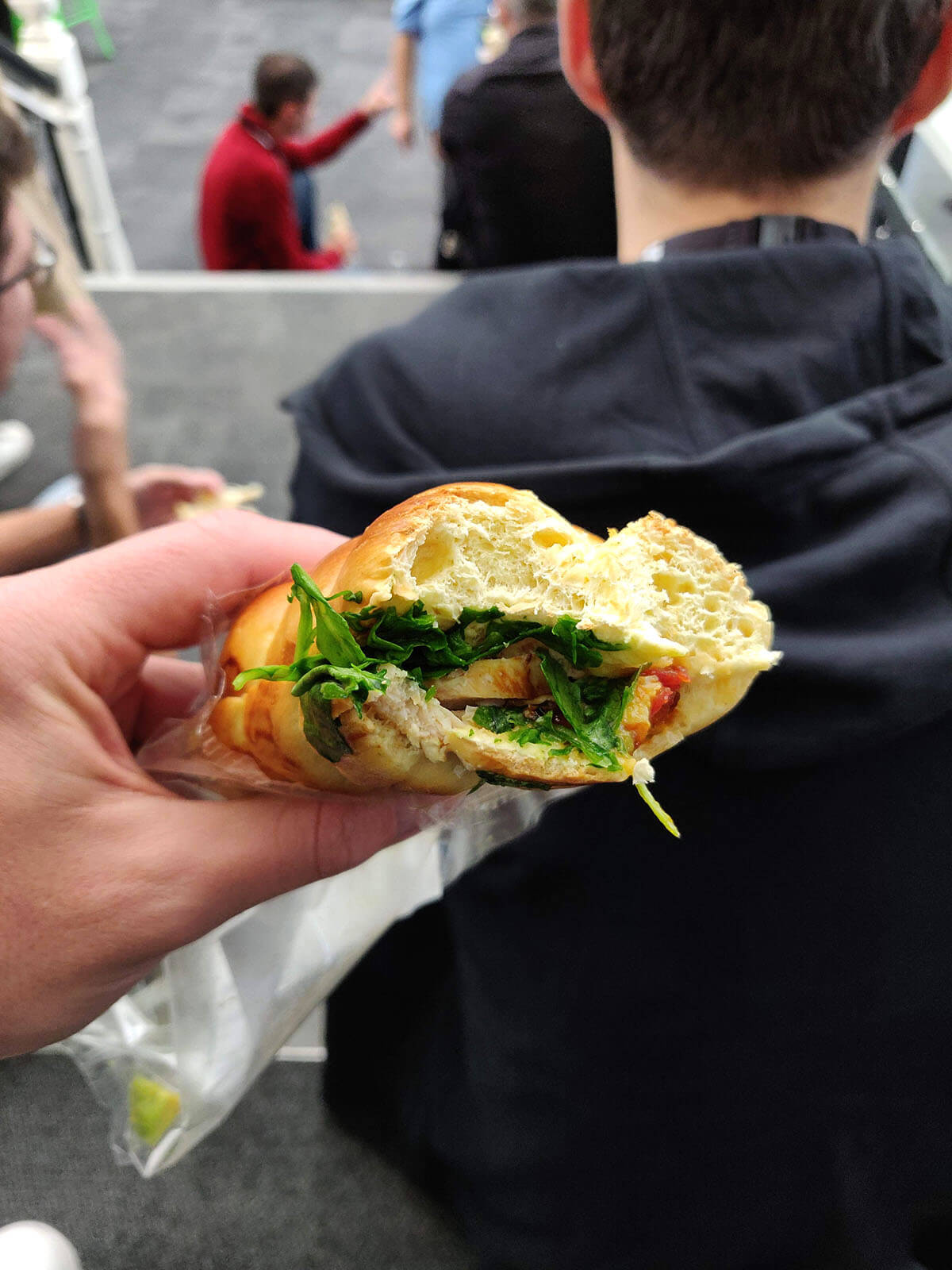 Leave a comment
Be the first!